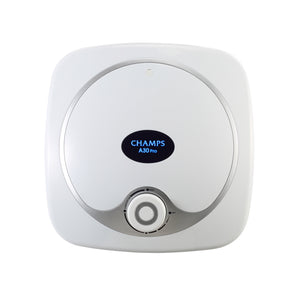 Champs
Champs Storage Water Heater A series
Regular price
SGD$180.00
Sale price
SGD$215.00
Champs Storage Water Heater A series
Simple Design
Compact and space efficient design for easy installation and maintenance.

Durable Stainless Steel Element
High strength and long-lasting 2kW stainless steel element.

Energy Saving
Minimum heat loss through high-density polyurethane foam insulation. Heat can be maintained even after electricity is switched off for a period of time.

Precise Temperature Selector
Provides easy and precise control over the water temperature.

Quality Tank
Enamel-coated tank and heavy duty anode provide higher corrosion resistance and longer lifespan.

Safety System
A safety pressure relief valve activates during pressure build-up and prevents backflow of hot water to the mains and dry heating of the element. A thermal safety device also cuts off the power supply if the temperature rises to an unsafe level. The heater tank is tested to withstand up to twice its rated pressure. 
---
More from this collection